There are a large number of hotels in Wolverhampton. Use trivago.com to search for nearby hotels by entering the studio address and finding the cheapest prices. You could also try AirBnb.com for rooms.
Recommended Hotel
Novotel Wolverhampton
Union Street, Wolverhampton, WV1 3JN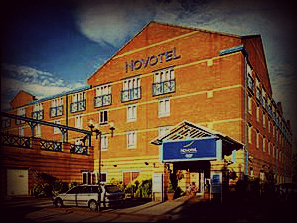 The Novotel is just a 5 minute walk to the bus and train station, as well as walking distance to
Rooms can accommodate up to 4 people, so be sure to find room mates!
http://www.novotel.com/gb/hotel-1188-novotel-wolverhampton/index.shtml
Other Hotels
Britannia Hotel: Lichfield Street, Wolverhampton, WV1 1DD
http://www.britanniahotels.com/hotels/wolverhampton/
Within the city centre.
Premier Inn Wolverhampton: Broad Guage Way, Wolverhampton, WV10 0BA
http://www.premierinn.com/en/hotel/WOLBLU/wolverhampton-city-centre
Located behind Wolverhampton Train Station
Travelodge Wolverhampton Central: Bankfield House, Waterloo Road, Wolverhampton, WV1 4QL
www.redwingslodge.co.uk/wolverhampton-central-hotel
Mercure Goldthorne: 126 Penn Rd, Wolverhampton, WV3 0ER
http://www.hotels-wolverhampton.com/
Save
Save